The history of the Kazakh national Melpomene Temples named after Abay Kunanbayev begins back in 1917. It was then that the premiere of the play "Enlik-Kebek" was held under the direction of Mukhtar Auezov at the "Oikudyk" jailau.
And in 1920, in Semipalatinsk (now Semey), outstanding artists – Amre Kashaubayev, Isa Baizakov, Zhumat Shanin and others organized the theater "Es-Aimak", which was registered in 1934. From that moment on, the institution became "Kazakh music and drama theater" and proudly bears the name of the great Abay. In honor of that event, the play "Revenge" based on the play by I. Zhansugurov was staged. The first director was Galiakbar Torebaev. The theater has staged works by M. Auyezov, G. Musrepov, S. Mukanov, S. Zhunusov, K. Mukhametkhanov, M. Sarsek, O. Bokei, M. Ibraev, R. Seysenbayev. The main directors of the theater were national artists B. Omarov, E. Obaev, Ch. Zulkashev, K. Rakhmetov. Now the theater troupe is in one of the most beautiful modern buildings of the city, together with the companies of the Russian Drama theater named after F. M. Dostoevsky and the Youth theater "Dariga-ai". Project authors: architects V. M. Belousov, O. G. Smirnov, A. M. Baer. Year of construction - 1972.

1933 was year of the opening of another theater, which later was named after the poet.
In 1933, a music studio was organized in Alma-Ata (now Almaty), which was transformed into a musical theater in 1934. On 13th of January, 1934, the first performance of Mukhtar Auezov's libretto "Ayman Sholpan" took place. Since 1937, the theater has been called the Kazakh Opera and ballet theater. In 1938, the first Kazakh ballet "Kalkaman and Mamyr" by V. Velikanov was staged. In 1941, the theater received the status of academic and in 1941 the construction of a new theater building was completed (architects N. Kruglov, N. Prostakov, T. Basenov, V. Bychkov, P. Polivanov, artists V. Kroshin, N. Tsivchinsky, consultant-academician of architecture A. Shchusev). In 1945, the theater was named after Abay and became one of the leading theaters in Kazakhstan, called " Kazakh state academic opera and ballet theater named after Abay".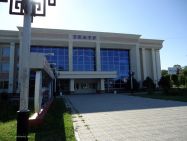 Another temple of theatrical art is associated with the name of Abay.
On January 5, 1936, in Aulie-Ata (now Taraz) the collective-state farm theater was established. And in 1936, it fully started functioning with the premieres of the one-act comedies "Daughter-in-law and mother-in-law " by B. Zh. Maylin and "Bride" by K. Kyrkymbayev. In 1940, the theater was reorganized into the Jambul regional Kazakh drama theater, in 1945 it was named after Abay. And now, it is the "Zhambyl Kazakh drama theater named after Abay" (Taraz).